The PS2 was an incredible console for multiplayer gaming. Sure, it didn't have the four default controller inputs of its competition, but it had the largest game library of all of them. Whilst there were some huge multiplayer titles worth playing, such as Timesplitters 2, Burnout 3 and SoulCalibur II, those will not be the subject of today's piece. Instead, we will be taking a look at the games that flew under the radar, the games you'll likely not have heard of, and the games that you should be adding to your collection to bring along to your next multiplayer night.
Whether you're in the mood for some versus action, a co-operative experience or something you can sink your teeth into with a couple friends – Sony's console has you covered. I take my PS2 slim to the majority of my numerous multiplayer nights, and I have played through a LOT of what the system has to offer due to this. We've played some utter rubbish, like The Mission for PS1, and we've played some awesome games like Tekken Tag, but a lot of the time we end up scratching our heads wondering how some games we've played never really took off. Here are three such titles.
Monster Attack (Sandlot, 2004)
Whilst this series absolutely took off, it wasn't until it reached the Xbox 360 (Earth Defence Force 2017). The previous three games in the series, Global Defence Force, Global Defence Force Tactics and Monster Attack are barely ever mentioned, and are even unknown to many fans of D3 Publisher's EDF franchise due to it never reaching North America – only receiving a Japanese and PAL release. The Super Nintendo Earth Defence Force games are of no relation other than by name.
Monster Attack is an absolute blast to play in co-op. The EDF series basically comprises of running around trying to rid the city of giant insects and Kaiju. You'll have some awesome weaponry at your disposal, ranging from tanks to helicopters to heatseeking rocket launchers and automatic rifles. There are usually hundreds of these beasts in each mission, and it's easy to feel overwhelmed – but incredibly satisfying to appear on the horizon to rescue your co-op partner just like Gandalf at the battle of Helm's Deep.
Monster Attack is truly epic, and a great first entry in the EDF series. For anyone hoping to slay gigantic ants and shoot down UFO's from the skies – this is the game for you and your co-op buddy. It's not particularly expensive in today's market, you'll just need to make sure you have the means to play this PAL/JP only title.
Barbarian (Saffire Corporation, 2002)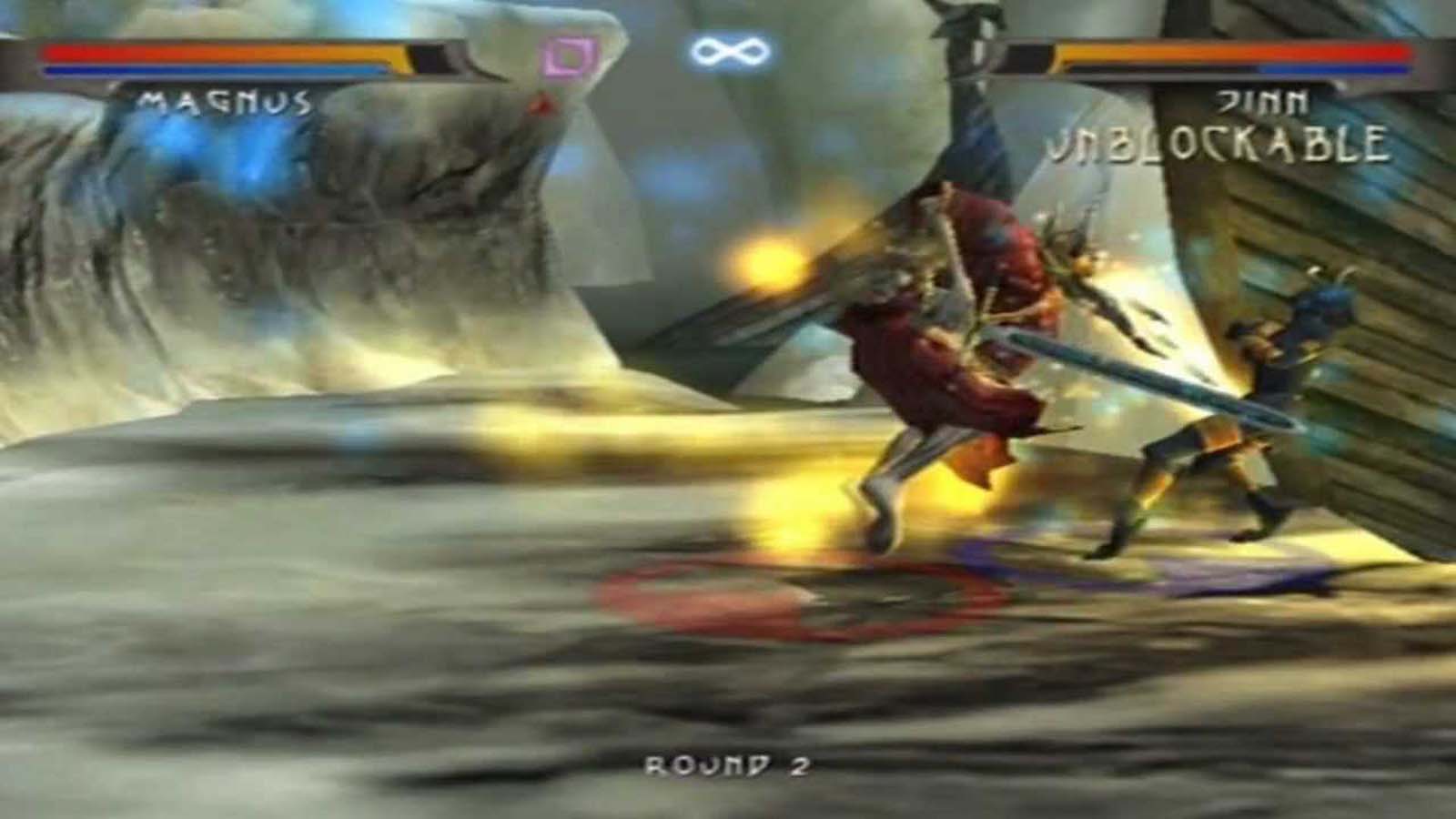 Imagine a medieval themed Power Stone. Intense four-player free-for-all battles in a fantasy world, with skeletal beings and ghostly Vikings taking on necromancers and ape-beasts. Barbarian does not skimp on the idea of being cool. It's a sort of sequel to 1987's Barbarian, which released to the Atari ST, the MSX and MS-DOS along with further releases on the Commodore 64, Amiga, Amstrad CPC and ZX Spectrum. Whilst there was a sequel to the 1987 title released in 1991 for the Amiga and Atari ST – the name lay dormant until this particular effort in 2002 by the developers of PS1 hyper-violent fighting game Bio F.R.E.A.K.S.
Despite being a little bit clunky, just like Saffire's previous fighting effort, there is a real charm to Barbarian. There is a huge host of characters as well as a lengthy campaign mode. Every character has a story to tell and these are laid out with epic scrawls of text read aloud by a booming voice. Usually long pieces of text leave me disinterested but I found myself listening to the tale of Magnus the Great, revelling in its twists and turns along his path of revenge and redemption.
Barbarian is fantastic to play, even with just two players. You'll have enough character variation to keep you going for a while, and environmental attacks make for some hilarious moments, such as attacking your opponent with the body of a dead narwhal. I highly recommend this one, and it's a great alternative to Power Stone or Urban Reign if you're after some four-player action.
Circus Maximus: Chariot Wars (Kodiak Interactive, 2002)
Another co-operative title, Circus Maximus charges you and a friend to work together in an epic chariot race. One of you takes the reins whilst the other must fend off enemy chariots from the back of the cart. You'll need to communicate well in order to duck under bridges and fallen branches, as well as make sure that both of you lean the correct way when tackling corners.
This is one of the few racing games my friend and I regularly crack out on a multiplayer evening, as we usually stick to a lot of fighting games and brawlers. We often have a lot of fun for a race or two before getting irritated at the others lack of communication or inability to lean the right way. I am usually the one leaning the wrong way.
Weirdly, Circus Maximus is only available for the PS2 in PAL territories, whereas in North America the game was exclusive to the Original Xbox. It's still well worth picking up with one of those giant controllers though. It's just super original, and really innovative. There are a small handful of titles that I can think of that feature similar mechanics, but I'll be saving those for another time.
Know of any other underrated multiplayer PS2 games? Let me know, and I'll be sure to dig around for a copy and call a friend over!
Craving some more obscure games or just want something interesting? You can click HERE to go to ObscuReviews Archives and delve deep into games you didn't know existed.
Today's Indie World dropped some neat indie announcements for the Nintendo Switch. Here's the rundown – Road 96 A proceedurally generated adventure game inspired by 90s' road films, Road 96 puts the player in the midst of a journey [...]
It is frankly quite embarrassing to see Cyberpunk 2077 go from being one of the most anticipated video games ever, to becoming the laughing stock of the industry, in the blink of an eye. Last year's open world sci-fi RPG from Polish publisher CD [...]
Back in 2017, THQ Nordic showcased this CGI teaser about a new project called Biomutant. Pretty vague, but intriguing nonetheless, featuring a furry being on the run from baddies. Soon after, we got our first look at what we now know is a whacky RPG debut [...]